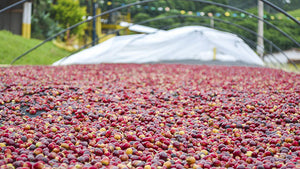 BRAZIL
Fazenda Santuário Sul Washed Sudan Rume
History of the Farm
Fazenda Santuário Sul is a project born from the objective of being at the vanguard of new market trends. It is not simple to begin a plan thinking of bringing coffees from different regions of the world to create a new profile of Brazilian coffee. The coffees grown here are reflections of the obstinacy of Luiz Paulo and his partners. Today, in addition to traditional Brazilian varieties such as Yellow Bourbon, the farm has more than 30 exotic varieties of coffee, differentiated growing practices such as shaded fields, and innovative processes. 
Santuário Sul is located next to one of the most traditional farms in Carmo de Minas, Irmãs Pereira, where its coffee is processed. With great care, the varieties planted are closely monitored to provide the best results from the climatic conditions of the region. In addition, Luiz Paulo himself insists on cupping the first samples of each of these coffees. For the next few years, Luiz Paulo has no doubt "the goal is to lead the vanguard of the market and offer ever more quality!"
This lot is an exotic Sudan Rume. It is an exceptional coffee full of fruit and sweetness which is a product born of relationships nurtured through Carmo Coffees and the dedication of Luiz Paulo to be pushing boundaries of specialty coffee. 
COFFEE PROFILE
Country: Brazil
Region: Mantiquiera de Minas
City: Carmo de Minas
Farm: Fazenda Santuário Sul
Altitude: 1,380 - 1430 masl
Species: Arabica
Varietal: Sudan Rume
Harvest: May-July 
Process: Washed
Packing: 30kg Grainpro 
The Cup: Sweet orange, apple, nectarine, lime